Today as I said in the last Breed Spotlight I will be talking about the….. Friesian!
Friesian is pronounced as free·zhn, and they are one of my favorite breeds of horse. They are absolutely gorgeous!
How I Came To Like/Know About This Breed
Again, like I said in the last spotlight, I watched a YouTube video on the 8 most beautiful horse breeds in the world. Friesians were the first on the list!
History
They originated in the province of Friesland in northern Netherlands, dating back all the way to 500 B.C., when the Friesian people settled along the cost of the North Sea. The Friesian horse descends from the Equus robustus. During the 16th and 17th centuries, but probably also earlier, Arabian blood was introduced. This has given them their graceful movement and features. The Friesian horse has been kept free from influence of the English Thoroughbred. During the last two centuries it has been bred pure. Breeding horses and dealing in them was very important for the Friesians. The monks in the many monasteries in Friesland before the reformation did a lot of horse breeding.
During the Middle Ages, they were in high demand as war horses, as they were big and able to carry a soldier in armor.
The breed was totally lost in North America due to crossbreeding, but Tom Hannon of Canton, Ohio reintroduced the horse to North America in 1974.
With the help of the Friesian Studbook Friesian horses have been imported into Western Germany, Scotland and South Africa.
Uses
As I said earlier, they were uses long ago by knights, but not really anymore. Today, they are used for many things like riding for pleasure and in competition, dressage, trail riding, and pulling carriages. They have not been bred for jumping, but some people do enjoy jumping them.
Facts
Height: 14.2 to 17 hands high, which is an incredible range!
Color: They are black most of the time.

In very rare situations, some are chestnut. Those that are chestnut are known as Fire Friesians. There are also those with white markings on their body which is a sign that it is not a purebred.

Weight: 1,200-1,400 pounds
Temperament: They have a calm and steady personality. They are loyal, willing, placid and cheerful. Very people oriented and highly intelligent with an uncanny ability to retain knowledge.
They only live around 16 years.
They use a special carriage that is made just for them, its called a Friesian Sjees.
They almost became extinct quite a few times.
They are used in movies all the time.
They are quite expensive.
Pictures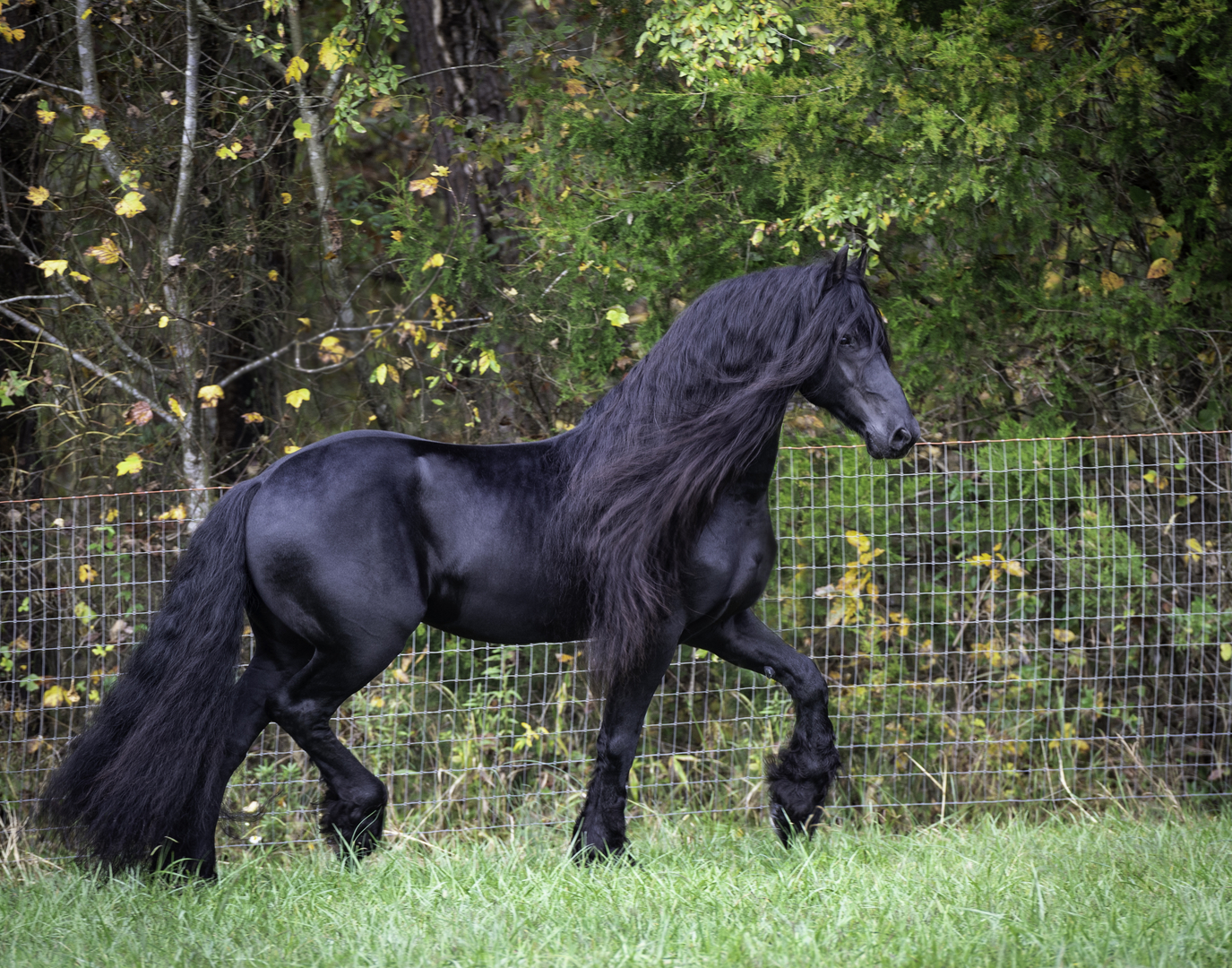 And that is all! Hope you enjoyed!
~Faye 🐎