Hey everyone! Sorry I haven't posted in awhile, things have been really busy lately. But no matter, I am here now to tell you what's on my bucket list!
1. Gallop Along a Beach
I have never galloped before, but I want to someday, and once I learn how to I'll be heading to a beach!
2. Go for a Horseback Ride Through the Country
I have always thought that it would be amazing to do this, I don't know why, but it sounds really fun!
3. Ride Sidesaddle
I don't want to learn this professionally or anything, I really just want to sit in a a sidesaddle and go for a short ride, if I like it, I might do it again, but we'll have to see!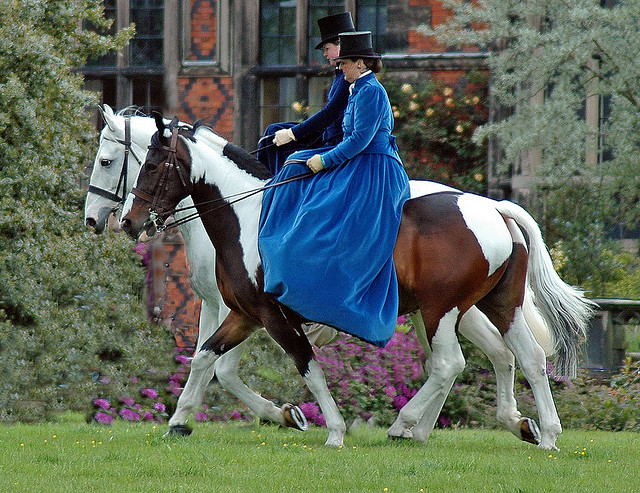 4. Be in a Colonial or Victorian Reenactment
I love the colonial and Victorian time periods, and I have always wanted to live their kind of lifestyle.
5. Be in a Movie
It would have been amazing to be in the Hunger Games movies, but I was really little when those came out. I would want to be in some sort of movie like that someday, though. I would really love to be in The Balled of Songbirds and Snakes, but that probably won't happen.😕
---
That's all I have on my bucket list for now. As for what I want to learn…
1. Archery
Now, this I've already learned, but I definitely want to learn more, and get better.
2. Knife Throwing
I've wanted to learn this for awhile, now. I just think it would be really cool to know how to do that.
3. Sword Fighting
I've always wanted to learn this, and, again, I just think it would be cool to learn.
4. How to Shoot a Gun
This would be useful to know, just as self-defense.
---
So, I want to learn a lot of weaponry! I'm not sure why, but it never hurt to be prepared!
---
As a random side note: I have been reading The Balled of Songbirds and Snakes, and I'm almost done. Caution: Spoilers Ahead! So far I think it has been amazing. Its really cool how everything ties together with the the trilogy. And it's really horrifying how the games were in the early years. I mean, they are always horrifying , but those games were really gruesome. I can't wait until the come out with a movie for it! I really like how many songs are in it, and that you learn the Valley song (the one that Katniss sings on the first day Peeta met her) as well as who wrote the Hanging Tree. It's also kind of creepy that Snow was at the hanging that was the inspiration for the song. I bet that hit him hard when Katniss sang it on live television in Mockingjay!
And one more thing: would anybody like to do a Q&A?
That's it! Hope you enjoyed!
~Faye 🐎